Size Guide
E.L.F ZHOU LONDON products have been designed to provide a bespoke fit for each individual wearer. The designs with adjustable back straps, allow complete cup and back size differences to be achieved as required.
Lingerie  &  Bodywear
Our bras and bodies are Small, Medium and Large. The way we have managed to do this is make the bra can be adjusted. We work with the principles of the cross grading system   Where a 34B and a 32C have the same cups. You can adjust our bras in 2-3 different places (under and across the shoulder blade, around the under-bust and at the straps), which allows the Small size to fit 36A, 34B & 32C, a Medium to fit 36B, 34C & 32D and a Large to fit 36C, 34D, 32DD. Overt cups are of course less size restricted so of course someone with a larger bust could easily fit into something we design.  This makes it a lot easier for men to buy lingerie for their partners.
Briefs and thongs are available in sizes S M L, with more adjustable styles sized S/M and M/L.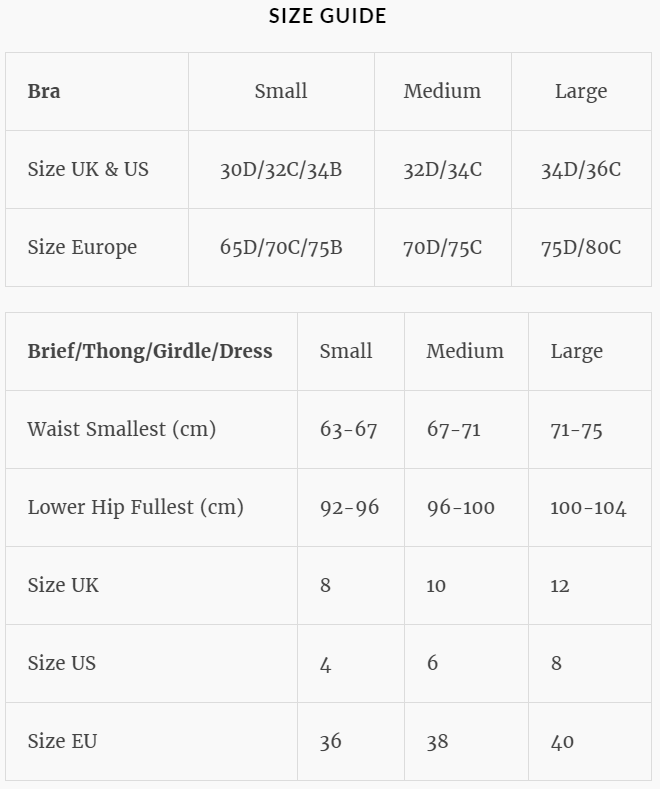 Leather Artefact
Our Leather Accessories was set up as a project to explore female body form along with the avant-garde of traditional leather craftsmanship. Every piece represents a fusion between the heritage of the craft and unique take on wonder woman femininity.
Every item in our Leather Artefact collection (Leather Accessories) is polished and finished along all edges to the highest standard, all styles are crafted entirely by hand in the E.L.F ZHOU Atelier in Central London and are made using only the best Vegetable Tanned leathers and solid brass fittings from the UK and Italy. Our Vegetable Tanned Cowskin Leathers develop a beautiful patina over time and our Solid Brass fittings are coated with gold, nickle and gunmetal.
Please find the specific size guide of each Leather Artefact product on every product page.
If you have any queries regarding sizing please don't hesitate to contact us at info@elfzhou.com